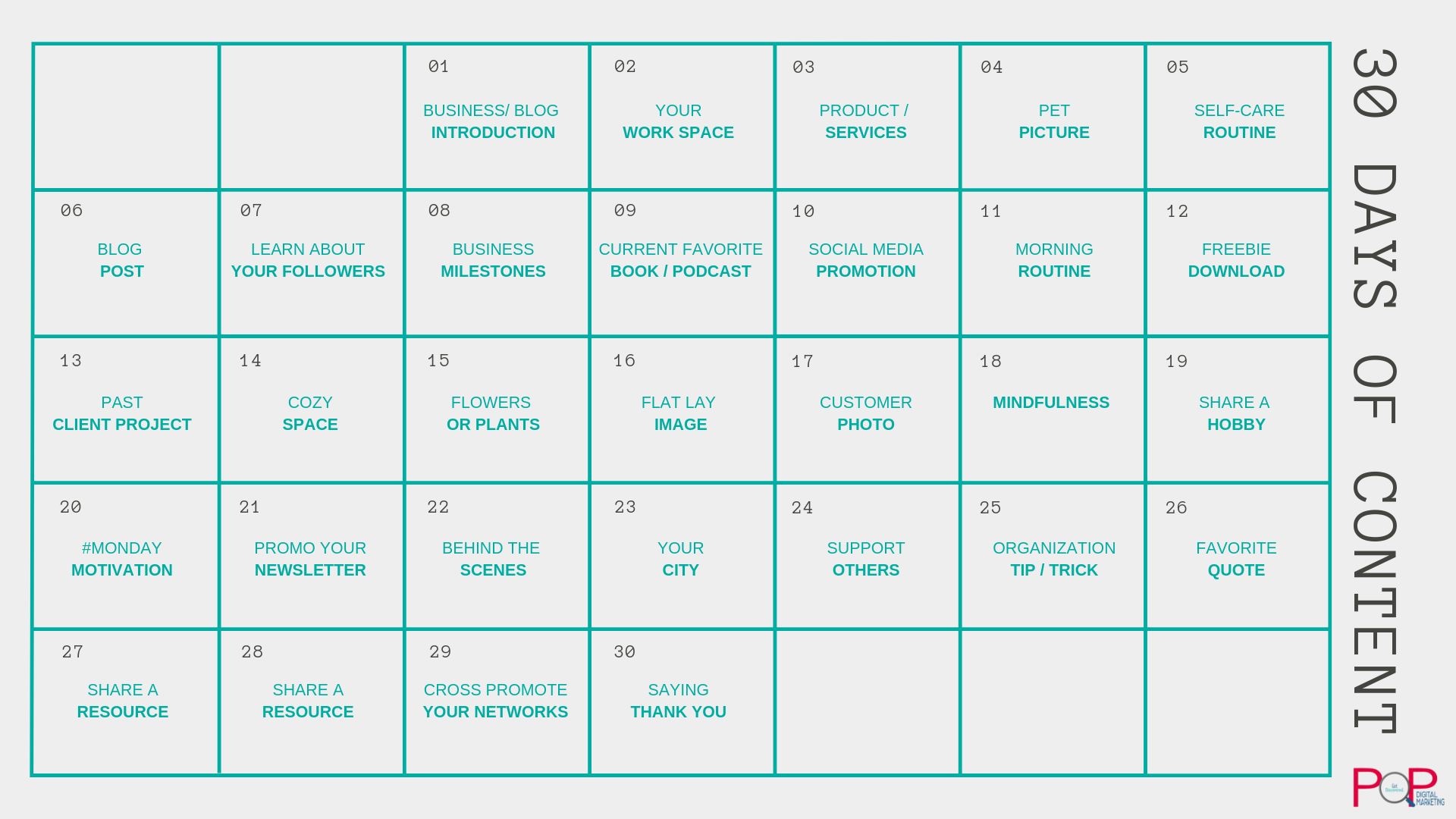 Setting aside time to plan an entire Instagram feed can be time-consuming. One of the hardest parts is generating content that your followers are actually interested in. As an agency that curates and manages Instagram accounts for multiple clients, we've compiled a list of best practice posts to help ignite your company Instagram account into a highly engageable and followed brand leader. Below is a list of trending Instagram posts and topics relevant to 2019!
HINT: Don't be afraid to ask your audience questions it helps with engagement and gives you insights to what they are looking for!
30 Days Of Post Material For Your Business Instagram Feed:
DAY 1: INTRODUCTION
Every Business (or blog, influencer, etc.) needs an introduction! Discuss who you are, where you are from, and what you are passionate about! This will help your audience connect with you and create genuine followers and future clients!
DAY 2: WORKSPACE
Show off your workspace and inspire others! I know I am a sucker for pictures of a decorated workspace! It's always nice to tell your clients how you work and show off what motivates you (muscle emoji?)
Don't have a workspace at home? Show off your favorite coffee shop and be sure to tag them!
DAY 3: PRODUCT / SERVICE
Start to show off your products and/or service! Start with your most popular or even a NEW service you just started offering! Describe the product or service briefly and then link to your actual website!
DAY 4: PET PICTURE
Do we even need to explain? Everyone loves a good pet pic!!
DAY 5: SELF-CARE
What do you do for self-care? We need to remember the importance of taking a moment for ourselves. Running a business is hard work and can feel like it takes over your life. R E L A X ~ give your audience some insights into how you take time for yourself!
DAY 6: BLOG POST
Show off a blog post! Resurface an old one or come up with something fresh! Blog posts are great for SEO and showing off your knowledge of the field or product!
DAY 7: LEARN ABOUT YOUR FOLLOWERS
Find out something valuable about your followers! Who are they, where are they from, and what content are they looking for? This gives you great insights about your audience and you can adjust your future posts to allow for engagement from them!
DAY 8: MILESTONES
Share a recent Milestone your business has reached! Maybe it is x amount of new clients or a completed project for a client!
DAY 9: CURRENT FAVORITE BOOK / PODCAST
What books or podcasts have you read that are currently inspiring you?! There are so many out there and people are constantly seeking out new ones to read or listen to! Make sure to tag the author/curator you are promoting!
DAY 10: SOCIAL MEDIA PROMOTION
Here is a great way to advertise your products while offering a discount to those who follow you on Social Media! Create a unique code (INSTAGRAM15 or FACEBOOK15) this allows you to track the number of times this code was used.
DAY 11: MORNING ROUTINE
Show off your morning routine! Do you hop out of bed and turn on the computer or enjoy a cup of coffee on the couch?!
DAY 12: FREEBIE
Who doesn't like free items?! Create a freebie for your followers that pertains to your niche! There are hundreds of freebies online so maybe search around for some inspiration!
DAY 13: PAST CLIENT PROJECT
Show off a little with a completed project you've worked on in the past! Showing finished projects helps establish your business and the kind of work you do!
DAY 14: COZY SPACE
Post your favorite cozy space! This can be a space in your home or a local shop! Somewhere that inspires you!
DAY 15: FLOWERS / PLANTS
Maybe you finally planted some new flowers or just treated yourself to a bouquet! Flowers will always look pretty on your Instagram and they stand out when scrolling on Facebook!
DAY 16: FLAT LAY
Take some time to find creativity in your posts! Styling flat images are one of my favorite parts about Social Media! Find some of your favorite objects around the house (even include some past projects!) and start creating a visually pleasing flat lay!
DAY 17: CUSTOMER PHOTO
Customer photos are the best! It gives you content with little to no effort! I think it is best practice to ask the customer to use the image and make sure you tag them!
DAY 18: MINDFULNESS
Just like self-care mindfulness is so important! Take 20 minutes to meditate or do a little yoga session and share how it went with your followers!
DAY 19: SHARE A HOBBY
Share what you do on the side! You never know who may have the same interest to create a connection with!
DAY 20: #MONDAYMOTIVATION
Following trends like #MondayMotivation and #TestimonialTuesday are great for others searching through hashtags!
DAY 21: NEWSLETTER
Promote your newsletter! It's always great to offer something for those who sign up! Maybe 15% off a service of a freebie download!
DAY 22: BEHIND THE SCENES
Take us behind the scene! This is especially great for those in the creative field! It's refreshing to see HOW something is actually made!
DAY 23: YOUR CITY
Take us on a tour of your city! In the caption, you can provide some of your favorite places to shop, eat, and enjoy a good happy hour!
DAY 24: SUPPORT OTHERS
I am a sucker for accounts that support one another and I think businesses should do the same! Give a shout-out to another company, an Etsy shop or a local shop near you! Hey, they may even turn into a client.
DAY 25: ORGANIZATION TIP / TRICK
How do you stay organized? We are all looking for ways to better organize tasks and ourselves!
DAY 26: FAVORITE QUOTE
People can't resist a good quote! Find something that resonates with you and your niche!
DAY 27: SHARE A RESOURCE
Share a resource! We all have them and there is nothing to be ashamed of! You can even ask your audience to share their favorites to get some more ideas for yourself!
DAY 28: CROSS PROMOTE YOUR NETWORKS
Take this time to encourage others to check out some of your other social media sites! Pinterest and Facebook are always good go-to networks!
DAY 29: #OOTD
Show off one of your favorite outfits! Maybe you just bought something new or are just bored with your same old office clothing. Take some time to dress up and show off! If you have a large company or team, show them off too!
DAY 30: SAYING THANK YOU
You should always find some time to thank your followers! They are supporting your virtually and financially! It's always nice to show your appreciation!
Let us know below your favorite type of content to create!
If you would like help curating content specific to your industry, utilizing best practices- get in touch with our team!