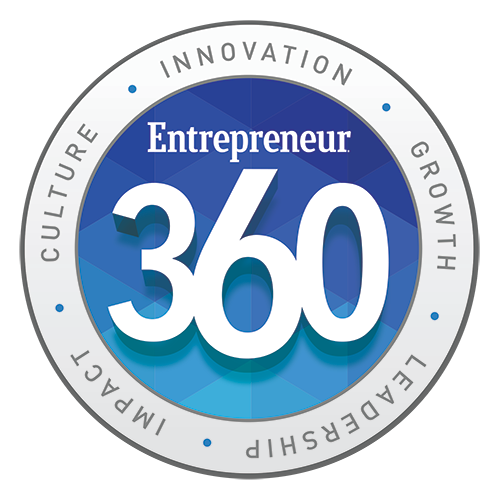 FOR IMMEDIATE RELEASE
Contact: Robyn Ackerman
Pop Digital Marketing LLC
[email protected]
(224) 307-5240
POP DIGITAL MARKETING NAMED ONE OF THE "BEST ENTREPRENEURIAL COMPANIES IN AMERICA" BY ENTREPRENEUR MAGAZINE'S 2019 ENTREPRENEUR360 LIST
Skokie, IL, Pop Digital Marketing LLC (PDM) was recently recognized as one of the "Best Entrepreneurial Companies in America" by Entrepreneur magazine's Entrepreneur360™ ranking, a premier study delivering the most comprehensive analysis of private companies in America. Based on this study forged by Entrepreneur, PDM is recognized as a well-rounded company that has mastered a balance of impact, innovation, growth leadership and value.
"Pop Digital Marketing is thrilled to be a part of an elite national list of fast-growing companies named on the Entrepreneur360 list. Our dedicated team works hard each day to ensure our clients' needs are met and exceeded." -Robyn Ackerman, CEO of Pop Digital Marketing.
"Every entrepreneur knows that a healthy business isn't just about growth. It's about being well-rounded—growing your culture and your systems as strongly as you grow your revenue," says Jason Feifer, editor in chief of Entrepreneur Magazine. "That's why we're excited to celebrate these companies with our fifth annual Entrepreneur360™ ranking. The companies that make the list have pushed boundaries with their innovative ideas, fostered strong company cultures, impacted their communities for the better, strengthened their brand, and grown impressively as a result."
Located in Chicago, we provide small, medium and large sized businesses the expertise, knowledge, creativity, and implementation of web marketing solutions to help "pop", stand out from the competition and get discovered by customers.
Honorees were identified based on the results from a comprehensive study of independently-owned companies, using a proprietary algorithm and other advanced analytics. The algorithm was built on a balanced scorecard designed to measure five metrics reflecting major pillars of entrepreneurship—innovation, growth, leadership, impact and business valuation.
To learn more about Pop Digital Marketing, visit www.popdigitalmarketing.com.
For additional details on the E360 List and the companies recognized, visit: entrepreneur.com/360
###
Pop Digital Marketing is a fast paced and dynamic digital marketing company located in the heart of Chicago land. Established in 2013, we work with many prestigious organizations and companies, and are proud to share our expertise with companies that want to get discovered. We specialize in digital campaigns, including social media, optimization, email and PPC (Pay per Click), website design, and consultative services. Contact us at popdigitalmarketing.com.
ABOUT ENTREPRENEUR MEDIA INC.
For 42 years, Entrepreneur Media Inc. has been serving the entrepreneurial community by providing comprehensive coverage of business and personal success through original content and events. Entrepreneur magazine, Entrepreneur.com, GreenEntrepreneur.com and publishing imprint Entrepreneur Press provide solutions, information, inspiration, and education read by millions of entrepreneurs and small business owners worldwide.