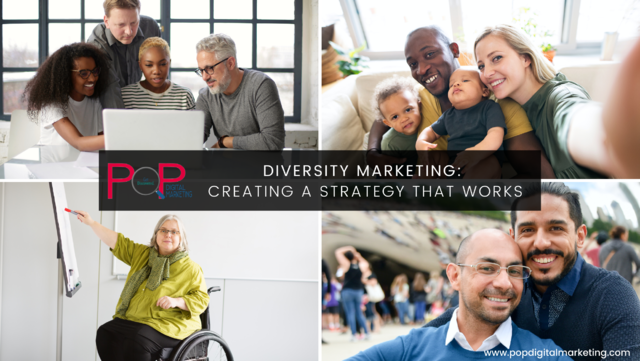 A recent study conducted by Adobe found that "61% of Americans find diversity in advertising important". The modern consumer wants to feel seen by brands and diversity marketing is the key to achieving your audiences' trust and approval. 
Diversity marketing allows your business to approach the market from a variety of angles and widen your reach. Brands often fail because their marketing is too narrow and doesn't represent 'real' people in the present society. The present & future of marketing is now and it is diverse. Consumers are paying attention, are you? 
What Is Diversity Marketing?
Diversity marketing is a marketing strategy that appeals to multiple groups of consumers. Successful diverse marketing stems from having a deep understanding of various cultures so that you can create effective and authentic content for your target audience. Brands often fail to reach these markets because their strategies are too narrow, only appealing to one or two specific groups.  
If you want to create an effective diverse marketing strategy, you need to go that extra mile to research and truly understand these diverse groups. You should learn about your target audience by asking questions and experimenting. The more effort you put forth helps to ensure that your brand's diversity marketing strategy is a success.  
3 Steps in Creating a Successful Diversity Marketing Strategy
:
1. Learn and Understand your Company's Diverse Market
The first thing to do in diverse marketing is to dive deep into your consumer's minds and learn about these different groups that exist. According to a recent report from Facebook, "most (71%) expect brands to promote diversity and inclusion in their online advertising". Take the time to understand these groups and learn how they would want to see themselves in media, be spoken to, and discussed. 
2. Add Inclusive Imagery into Your Content
People want to be able to see themselves in a brand's advertisements and content. If a brand is only using images portraying one type of person, they are narrowing their audience. According to a report from Heat Test, "69% of brands with representative ads saw an average stock gain of 44% in a seven-quarter period ending last year". Having a wider, more inclusive representation in your brand's imagery is a key factor in a successful diverse marketing strategy. 
3.
Strategize Ways to Prevent Tokenism
Tokenism is the practice of only doing a symbolic effort to do a particular thing. This is basically when brands singularly try to appear more inclusive and diverse when they are actually doing this to just make their consumers happy. People are quick to know when a company is not authentic, and doing this can really damage your brand. Make sure you come from a place of sincerity and authenticity; this will ensure your diverse efforts will be a success.  
Successful Diversity Marketing:
Creating a successful diversity marketing strategy doesn't just benefit your brand and consumers, it influences the positive change of a more accepting cultural, inclusive, and diverse world. The team at Pop Digital Marketing aims to ensure our marketing strategies are as effective as possible for our clients. The more you understand your diverse audience, the more likely you will achieve success.