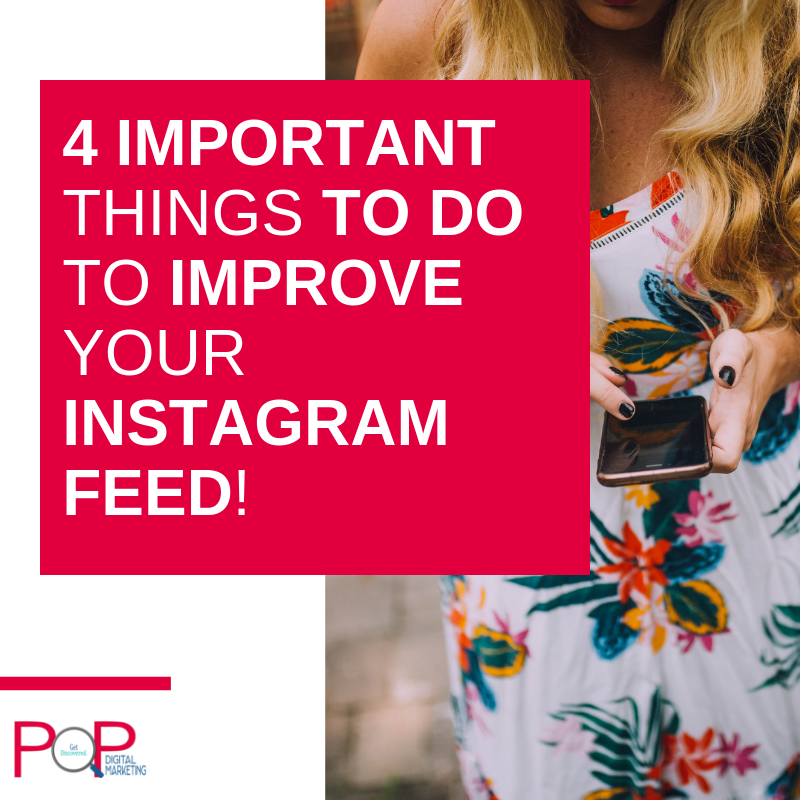 There's just something about Instagram that we, as a society, can't seem to get enough of. Even with that frustrating change to the algorithm, Instagram seems to be everyone's favorite! There are a ton of tips out there on how to beat the algorithm but it's even more important to have a profile that speaks to your ideal audience and potential clients. Below you'll find 4 important ways to improve your Instagram Feed AND exactly how to implement them!
First, Build Your Brand:
As a designer, I cannot stress enough the importance of your brand! Your brand IS NOT simply your logo – it is the entire aesthetic of your business. When it comes to Instagram this includes everything from the images you post to the captions you write. This tells your audience who you are, what your brand stands for and the type of audience you want to appeal to.
Building your brand is all about finding colors, images, and words that speak to what your business is all about! When it comes to Instagram having cohesiveness is key! Let's take a look at some examples of businesses whose branding is on point ?.
Brands WE LOVE on Instagram:
@shopbando – Bando the brand is Colorful, Fun, & Creative – Just like their products and their Instagram shows this off perfectly!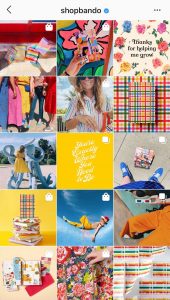 @getawayhouse- If their feed doesn't literally make you want to GET AWAY… Idk what will! Their Instagram reflects their rentals with a darker edit, which reflects their cozy cabins perfectly!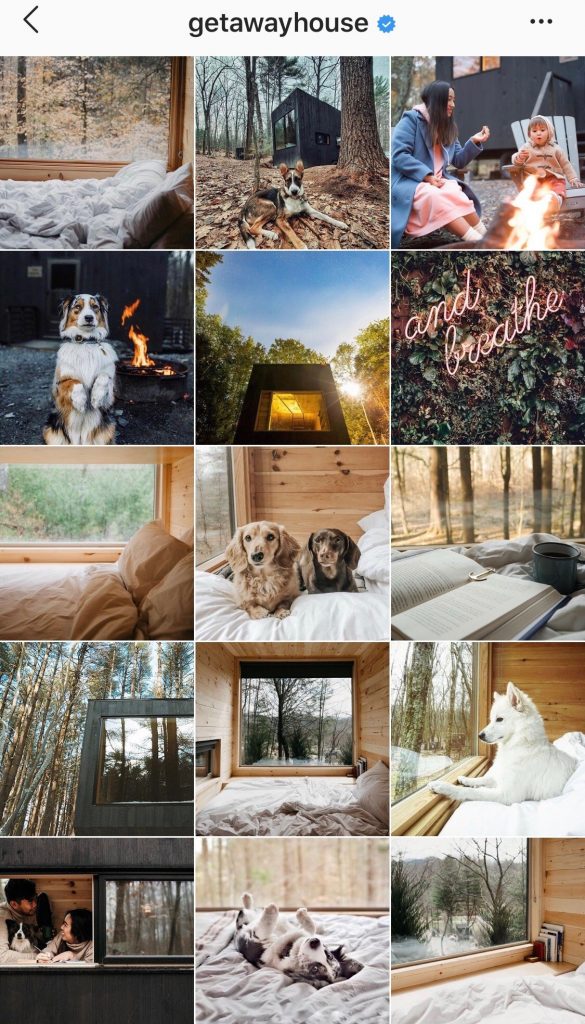 We know coming up with what to post on Instagram can be hard and time-consuming. Last month Pop Digital Marketing developed a  30 Days of Instagram Content.  The blog became so popular that it had over 300 shares in the first hour!
Next, Update Your Bio:
You have up to 150 Characters for a bio about YOUR BRAND! One mistake I constantly come across concerns bios that talk more about the individual behind the brand as opposed to the brand itself. Consumers want to know about the products they can find in your shop or the services you offer above all else. I love that you have 2 rescue dogs but unfortunately, that isn't going to teach me about your business.
This isn't to say you shouldn't tell us fun information about yourself, but prioritize what you are offering and then fill in the bio with other information. Below is a little "recipe" for developing the perfect Instagram business bio.
Instagram Bio Recipe
2-3 things you offer / i.e products, services, etc.
1 personal detail (if it fits in the characters)
+ Call to action such as a promotion or a special offer – something to really grab their attention and make them click that link!!
Using this little recipe your bio may look like this:
✿ Web Design, Social Media, + SEO Expert
✿ Wife to Jeff + Mommy of 2
15% off when you Subscribe ⇣
(LINK TO WHEREVER HERE)
Bios WE LOVE on Instagram:
@girlsnightinclub – GNI Tells us exactly what they are right away and if we join we can be apart of an online community with 150,000 women!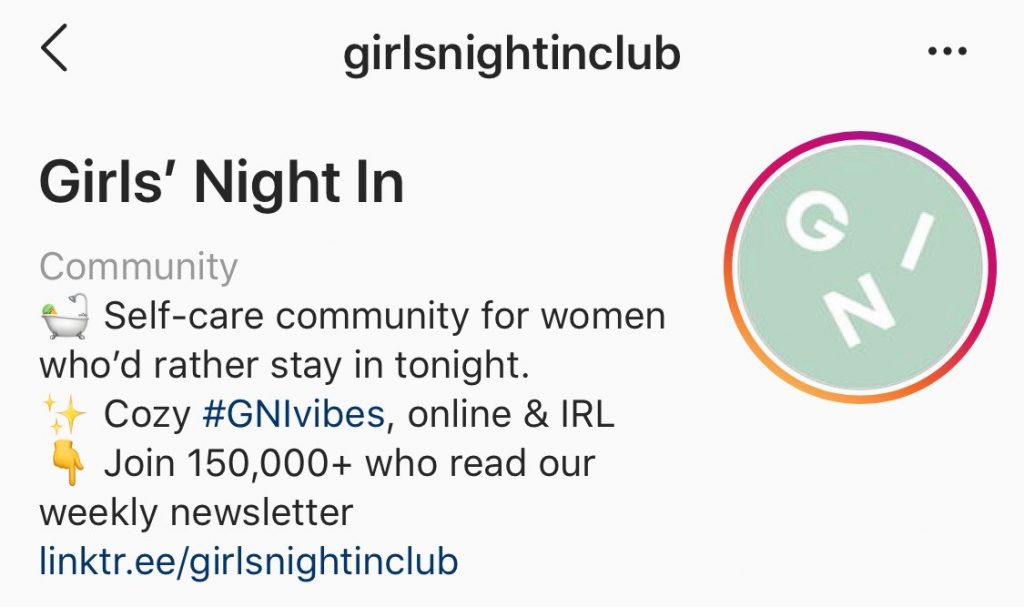 @theslowtraveler – Carolyn tells us what she does followed by where she is located AND tips we can find on her blog! Perfection!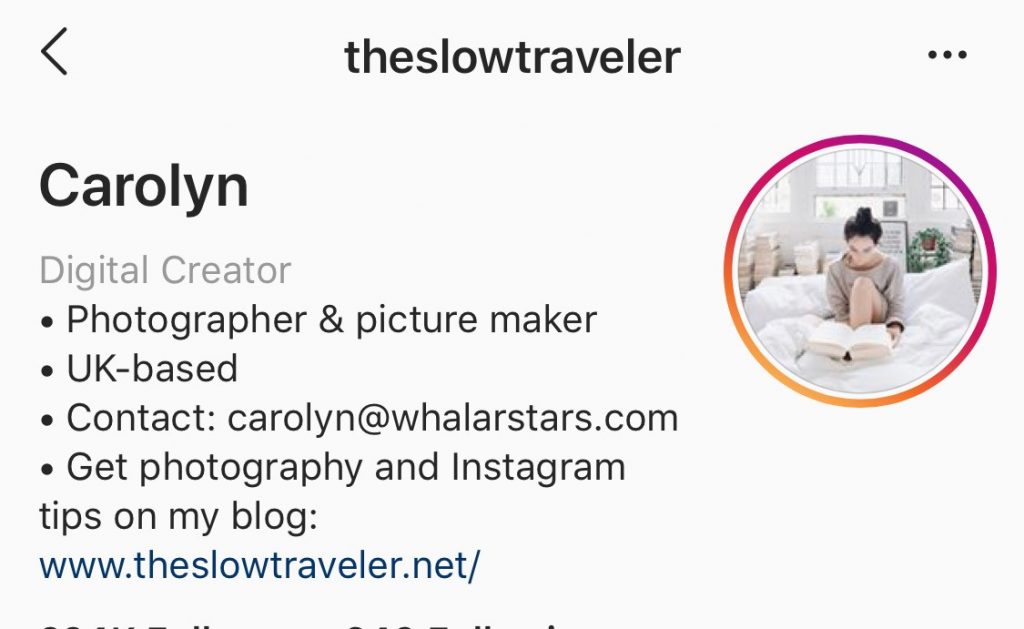 Then, Check Your Hashtags:
Hashtags can be tricky and there are so many places to start! The simplest way to begin is by using a hashtag Generator. Type in ONE keyword about your business then you will get results all around this one keyword!
Here is an example of results we got at Pop Digital Marketing with our Keyword being MARKETING: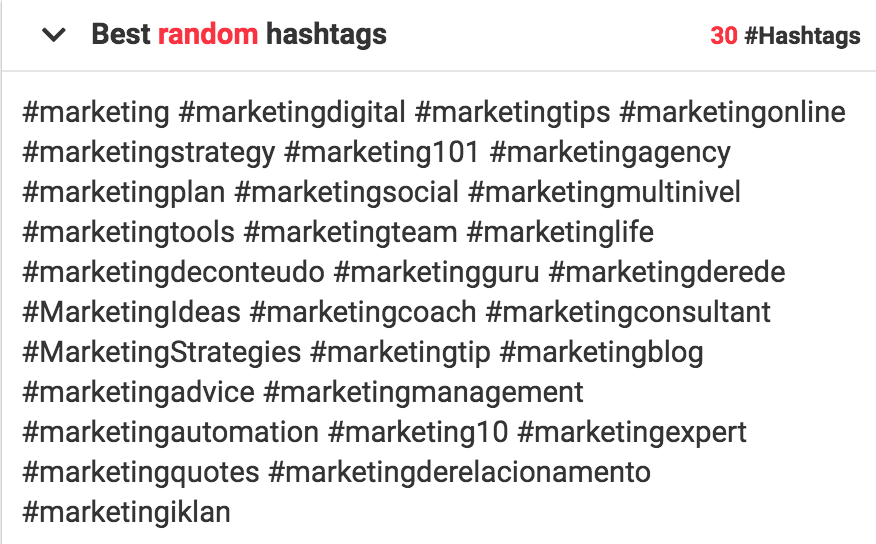 You can choose to end your hashtag research here or you can take it one step further. The size, or the number of uses a hashtag has, can make or break your image in search.  I'd suggest taking some time to research the number of uses a hashtag has by plugging it into Instagram.
For example, the hashtag #marketingguru has 154k users so the odds of your image being seen rapidly decrease! However, Instagram now has a "related" option for hashtags and this is where the real research comes in! Click through until you find hashtags with a lower number of uses – any with 50k or less are perfect!
Finally, Captions:
Your captions should represent the tone of your brand while talking about related topics. Use your captions to discuss new services or products, promotions, milestones, or even interests that relate to what your brand is about!
Captions can be a great way to tie an image into your brand. Let's be real, we can't always have the perfect image and sometimes those flowers are just too perfect not to post. This is an ideal opportunity to use the caption to tie the image into your brand!
In the end, it really comes down to your brand, not only on Instagram but for your entire business. Instagram is a great way to market your business and I hope these tips help improve your Instagram feed and even more importantly help reel in your ideal audience and potential clients! If you have any questions or need help at any point in the process feel free to contact us here or shoot us an email at [email protected]