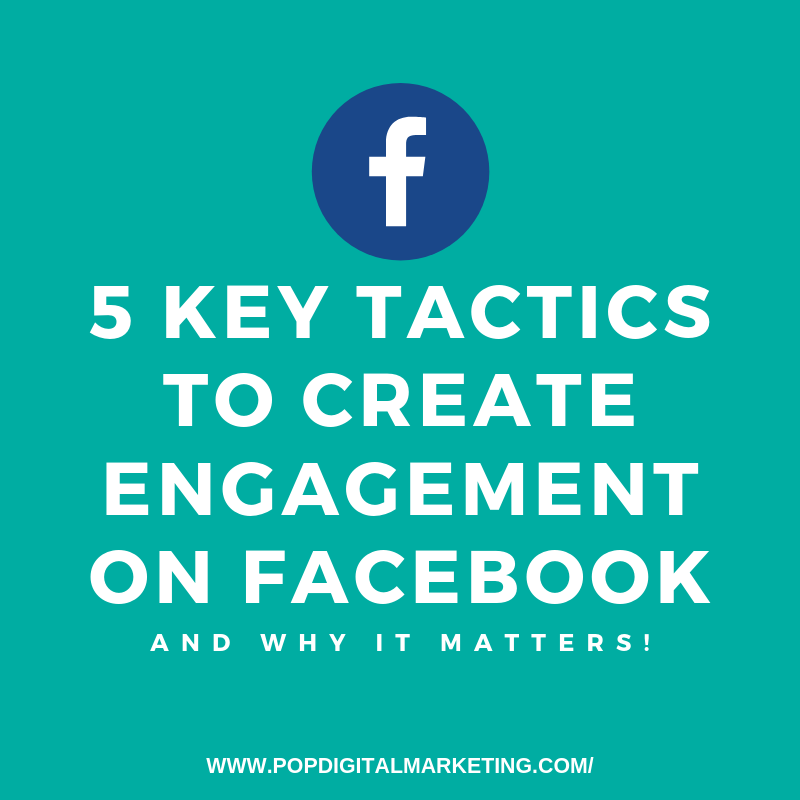 Big brands and small brands alike all have similar goals on social media: To cultivate our online community, grow our followers and ultimately create a platform to convert new leads. 
What is Facebook Engagement and why does it matter?
Many times our clients at Pop Digital Marketing ask why they should try and solicit responses, likes and shares on Facebook. Facebook Engagement Rate is measured by the percentage of people who saw a post (the reach) and liked, shared, clicked or commented on it. As a result of Facebook's EdgeRank Algorithm, your page's engagement rank will play a leading factor in which newsfeeds your posts get displayed in.  So in short and simply put (there is a bit more to it), if people are not interacting with your posts, they will eventually stop seeing them.
5 Facebook Posts to Drive Engagement:
Contests.

Create a fun contest that requires participants to comment or share the contest photo. Facebook has removed the contest requirement of using a third party application, so you can make this as simple as you want now!  Facebook contests with the goal of increasing engagement also carry many other benefits if your team strategizes well.  Over 38% of Facebook users are active in contests and when the rules are simple to follow that number goes up to over 52%.
What works: Try requiring followers to post a link to a product or service from your website to your page.  This now increases web views and brings awareness to what you are selling. 
Photos

. According to Wishpond– Facebook photos attract 104% more comments than an average post. And while insights of engagement vary across different industries, there is a global statistic that engagement rates are higher on Thursdays and Fridays. 
What Works: Right now, Throw Back Thursdays and Flash Back Fridays are driving many successful engagement campaigns.  Another fun way to get people interacting with your photos is to ask followers to "caption" the photo.  This creates "buy-in" from the followers and makes for a fun way to inspire creativity. 
Ask for opinions.

Let your followers know they matter. A powerful way to solicit comments are merely by asking.  According to a hubspot study, the way you phrase your questions will determine the likelihood of response success. 
What Works: Ask your fans a "Which would you rather" question about 2 new services you are contemplating offering.  This will help with creating a sense of "ownership" and anticipation from your prospects.  For more on generating comments, read this blog. 
Fill in the blanks.

Fill in the blank posts are another fun way to up your rankings. Use this opportunity to be light and even humorous! 
What Works: While we generally post close to subjects regarding our business, fill in the blank posts can actually deter out of your industry zone.  The more entertaining the post is, the higher the likelihood of generating responses.   Tie it into the local weather, news or hot topic. 
Like vs. Share

. Like vs. Share posts are a nice little trick to utilize the draw of visuals while still extracting that opinion benefit mentioned above.
What Works: Post a picture/visual of two opposing sides (A and B) that people have strong views on and ask them like the picture if they want A to win or B to win.  Note: This one won't really give you qualified leads but is an easy way to increase your edgerank.
How to track engagement:
Using Facebook insights you can easily track each post and its success or lack of in generating engagement.  It's very important to track both your overall page engagement (how many people are clicking on your page and its tabs) as well as the individual posts engagement rates.  Once you have at least 4 weeks' worth of data, you can start creating campaigns based on what you know your audience responds to best!