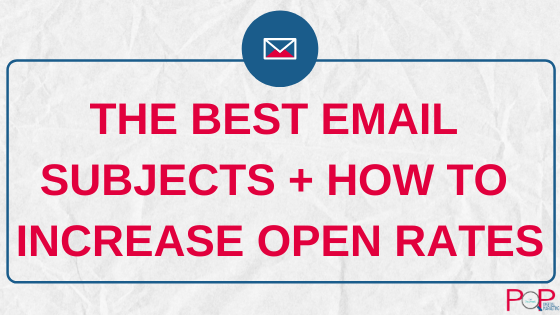 How many times do you open your inbox a day, only to send the majority straight to the trash? We've all been there: we scan the subject lines for anything worth keeping, and we dump the rest. So what's the lesson here? As the first interaction with your audience, a subject line is your opportunity to stand out among a sea of garbage and say, "You need to read me!"
In the following post, we outline the factors that make a subject line good –> great. Read on to find out how to craft the perfect email subject that draws in your viewer with power words that will appeal to a diversity of demographics.
First, let's start with the types of subject lines that draw in our readers:
Be Straightforward (Yes, sometimes it is just that easy!)
Fear of Missing Out
Creating Curiosity
A Solution to a Problem
Next, let's look at email power words:
Personalization (Recipient's Name, Location, etc.)
You/Your
We
New
Update
Introducing
Invitation
Special(s)
Sale
Offer
Event(s)
Using a combination of these power words with one of the above types of email subject line strategies is an easy, surefire way to help generate more clicks! And the more clicks you get from your emails, the more likely people are to continue opening your emails in the future.
Top Performing Email Subject Line Examples:
Straightforward Emails:
Hey [name], want 40% off your next purchase?
[name], would you be interested in a FREE consultation?
We want to hear from you!!
Join our LIVE webinar today! 3 pm CST—Don't miss it ✨
Are you familiar with Content Marketing?
Fear of missing out (FOMO) Emails:
Only TWO spots left in our painting class ?
FLASH SALE! Only 2 hours left for 30% site-wide!
For just $5… It's a no brainer ?
Our 50% deal ENDS tomorrow
A bike just opened up for tonight ? Let's ride!
Curiosity Emails:
The #1 rule for what NOT TO DO when it comes to Facebook marketing
A Pain-Free Process: The best FREE programs for design work
If you are sick of Subway Tile, DON'T open this email
You deserve the BEST (and we have it!)
These 10 Skills will help pay the bills ?
Solution Emails:
New Blog: 5 Solutions to working with the new Instagram Algorithm
List from A to Z on how to organize your small business (FREE DOWNLOAD!)
Finally, a way to measure ROI for everyone ?
Cheers! We found the best summer cocktails ?
ANNOUNCEMENT: Join our FREE email marketing webinar!
Best Times and Days To Send Emails:
Aside from immediately grabbing your audience's attention, it is also vital to know when your client/customer is going to open the email. According to CoSchedule, Tuesday is the best day to post, regardless of your industry. Furthermore, the best times to send are 10 AM, from 8 PM-12AM, and 2 PM. It's always a good idea to conduct some basic research that may further narrow or expand your timeframe.
Knowing exactly how to craft an email subject is incredibly important from a marketing standpoint, and these tips will help you generate more clicks, more attention, and more sales.